What are the different uses of essential oils – The aromatherapy essential oils are used for hair, for skin, Footbath, Pot pourri, Compresses, Oral Intake, Beauty treatment, Room Sprays and Insect repellants and for other miscellaneous purposes.
What are the different uses of essential oils in aromatherapy
Foot Bath
You can immerse your feet in a bowl of luke warm water to which 2-3 drops of essential oil is added. This is a very refreshing experience after a hard day's work. Also if you have sweaty and smelly feet, then this foot bath is very important.
Pot Pourri
Pot Pourri as the name suggests, is a mixture of dried flowers, herbs, grass and seed pods.
Few drops of essential oil added to the pot pourri and kept in a bowl would keep giving out aromatic fragrance for about four weeks.
Another more effective method would be to keep the pot pourri mixture (after adding the essential oil) in a closed container overnight, so that the oil gets absorbed.
The following morning, the box can be kept open for the aroma to fill the entire surrounding area.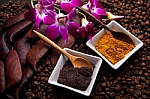 Bed Time
Sprinkle 2-3 drops on the pillow or on a tissue that can be placed under the pillow or cushion cover and inhaled just before sleeping or while sleeping.
This can be very useful in treating headaches, stress and tension and in boosting confidence. Some of the essential oils act as an aphrodisiac also.
Compresses
Both cold and hot compresses are profitable. Add 2-3 drops of aroma oil to a bowl of hot or warm water, and dip a hand towel or a piece of cotton to enable it to absorb the mixture.
Then squeeze out the excess water and place the towel or cotton on the area to be treated. Leaving the compress on the area for 2 hours is quite beneficial.
Oil like lavender is usually used. This provides relief when used over bruises, skin problems and pre menstrual syndromes.
To make cold compress, add 6 cubes of ice to a bowl with 2-3 drops of essential oil and dip a hand towel or a piece of cotton to absorb the mixture.
Then squeeze the excess water and place the towel or cotton, on the area to be treated.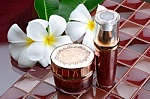 Cold compress is highly useful in treating burns, sore feet, hangover, sprains and headaches. After a facial, the use of hot and cold compress alternately, helps the skin.
Oral Intake
It is an accepted practice abroad to take essential oil orally, as it is safe. However, care should be taken to take it only under the supervision and guidance of an experienced aromatherapy practitioner.
A few of the oils can be taken internally in prescribed dosage for a particular problem like indigestion under the guidance of a qualified therapist only.
Beauty treatment
Aromatherapy essential oils have been used as an application for the skin from times immemorial.
As they are highly soothing in treating and enhancing the natural beauty of the skin, they can be safely incorporated in facials, massages, manicures, pedicures, scalp treatment, hair wash and hair treatment along with other creams and lotions.
Rose, chamomile, lemon, lavender, geranium and sandalwood are some good oils for facials irrespective of the fact that beauty treatment is given to normal, mature, dry, oily, sensitive or problematic skin.
The carrier oils that are helpful in a beauty treatment are sweet almond, wheat germ, peach kernel, apricot kernel and sunflower.
Steam facials with essential oils are also rejuvenating and help in improving the skin texture.
Room sprays
There is a call for protecting the environment and this is becoming a prime concern world-wide. Aerosols are being discouraged due to their ozone depleting properties.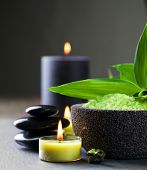 Essential oils are natural and hence they could be used liberally to deodorize a room, freshen and scent your bathroom or even your office.
Merely add 10-12 drops of aroma oil to half a litre of water and spray the mixture, with the help of a spray bottle. Oils like lavender, lemon, peppermint, pine and rosemary are best for this application.
Cupboards, wardrobes can also be disinfected. If a room smells of dampness or if there are moulds in the hotel rooms, factories or offices, the essential oil along with water can be sprayed.
Insect repellents
Essential oils are excellent fragrant dispenser and non toxic insecticides. Just 2-3 drops of essential oil can be used on pillow covers, mattresses or on used mosquito mats or applied to the exposed skin after blending with carrier oil, before going to bed to repel insects.
Lemon grass is best for flying insects, tea-tree for ants and fleas, thyme for crawling pests, camphor for moths and citronella for mosquitoes.
Even delicate plants, both indoor and outdoor, can be protected from insects by spraying the above essential oils to the roots of the plants.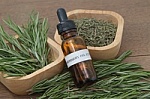 Miscellaneous uses
Aroma essential oils can be added to the water used for cleaning the house. It can be added to the water used for cleaning the house.
It can be used to wipe the kitchen counter, platform, dining tables and also to wash the bathrooms and toilets.
Aroma oils have innumerable benefits and they can be made a part of our daily routine.
RELATED TOPICS
Healthy food for beautiful skin and hair
How to dress up well for women
What are the causes of Acne breakouts ?
What are the different types of skin ?